One of the problems IB students face at the beginning of IB is choosing the right subjects. There are so many factors you have to consider: which teachers teach the course, the difficulty, differences between HL and SL, etc… but here's another thing you might want to think about. The trend of the grades given in the past few years. It shows how difficult the subject is compared to other subjects, and how the subject is becoming easier or harder to get a good grade. It also allows you to compare your current grade with mean grades from the past examinations so that you can identify your current level.
This post will especially help you choose your subjects in Group 3 (Individuals and Societies), Group 4 (Science), Group 6 (Art), and EE.
1. Overview of the IB Score
First, it's essential to fully understand the structure of the scores so that you'll be able to see the significance of each subject. The following table summarizes the structure of the IB score. The full mark is 45 points and each subject is worth 7 points while the additional points (up to 3 points) are given based on the performance of the EE and TOK. To pass IBDP, students are required to get at least 24 points and D grade for both EE and TOK.
Subjects
Maximum Grade
Total Points
Group 1 Subject (Studies in Language and Literature)
7
42
Group 2 Subject (Language Acquisition)
7
Group 3 Subject (Individuals and Societies)
7
Group 4 Subject (Sciences)
7
Group 5 Subject (Mathematics)
7
Group 6 Subject (The Arts)
7
Extended Essay (EE)
A
3
Theory of Knowledge (TOK)
A
2. Grade Trend in Each Group Subject
2.1 Group 3 Subjects (Individuals and Societies)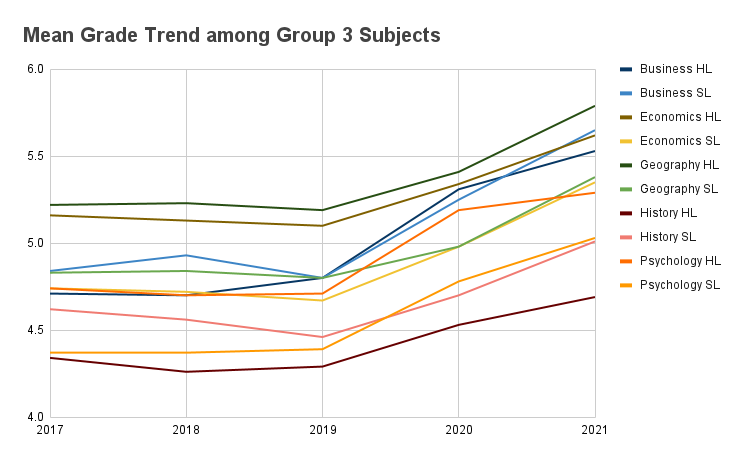 The line graph above shows the trend of mean grades in popular Group 3 subjects (Individuals and Societies). The graph shows the overall increase in grades after 2019 when an additional "non-examination route" was introduced in the face of the COVID-19 pandemic. However, History HL continues to be the hardest one to aim for 6/7 while Geography HL continues to be the easiest one. History HL requires a lot of reading and writing compared to other subjects and it is well-known that History is the hardest subject in IB. On the other hand, Geography might not require as much writing but instead, memorization is the skill you need for this subject. But once you understand and memorize the concept, you would be able to discuss the problems in the social context fairly easily.
2.2 Group 4 Subjects (Sciences)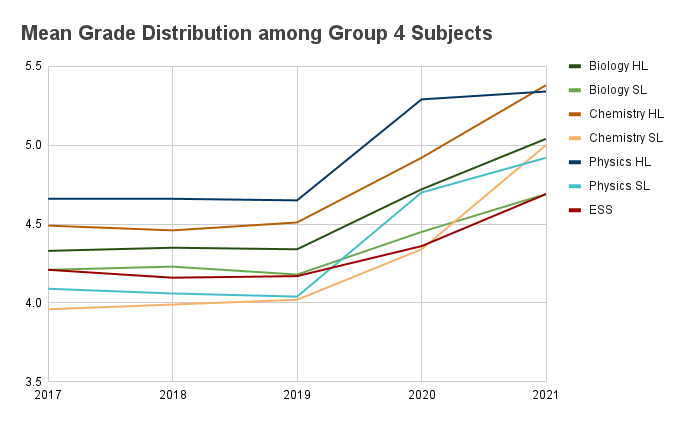 As mentioned in the previous section, we can see the overall increase in grades among Group 4 subjects too. But, HL subjects seem to dominate the top 3 subjects to have the highest mean grade while ESS and Biology SL had little effect from the new assessment style post COVID and their mean grade stays around 4.7. In general, ESS and Biology have a lot of necessary memorization and Physics and Chemistry have a lot of calculations. So if you're a Math person and don't like memorizing, you should go for Physics or Chemistry depending on the field you're interested in. And if you don't like Math, you should go for ESS or Biology.
2.3 Group 6 Subjects (The Arts)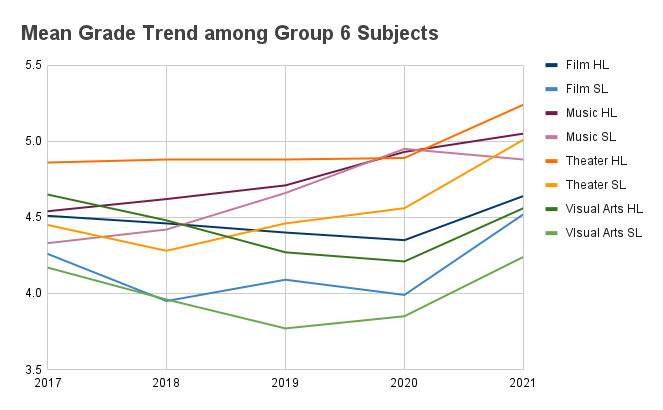 In contrast to previous group subjects, we did not see any increase in mean grade of some Group 6 subjects like Film and Visual Arts HL, and other subjects show only a gradual rise in grade in 2019. It was only after 2020 that most subjects showed an increase. This trend reflects how difficult it is for Art students to be properly graded via online communication when their performances have been previously evaluated mostly in person. In general, Theater HL tends to keep its position as the subject that is most likely to achieve 6/7 and Visual Arts SL is the subject that needs the most patience and practice to achieve the same grade.
3. Trend of Students with A in EE
When you are just getting used to your IB subjects, the time will come to choose an EE subject. EE is very important because your performance will determine whether you will pass IBDP or not, and whether you can get an additional score. So you need to be strategic about choosing an EE subject. Of course, it should be the field you're passionate about but you should be confident in your knowledge of that field too.
According to past data, the percentage of the students who got an A for writing their EE has been the lowest in Group 3 subjects (Individuals and Societies). The subjects might require students to do more research on different case studies and deeper analysis, and they are challenged with logical and critical thinking. Similarly, writing an EE in Group 4 Subjects (Sciences) require students to take time to go through a large number of trials in the experiment, and analyzing the original data might take more energy than in-class experiments.
On the other hand, around 20% of the students who wrote their EE in a Group 4 subject (Mathematics) have been awarded an A. Mathematics has been the least popular subject for EE, so students who choose to write their EE in Mathematics might be very passionate about exploring different contexts from a mathematical point of view and succeed in getting an A for their work. So, unless you're a math person, you might want to consider writing your EE in Group 1 (Studies in Language and Literature) or Group 2 (Language Acquisition) subjects since it's easier to write your EE in your first language (Group 1 subject) or analyze the culture in the regions of the language (Group 2 subject).
All the data used to make the graphs in this post are from The IB Diploma Programme Final Statistical Bulletin where the IBO officially summarize final grades in the May exam session every year. Links to the bulletins from 2017 to 2021 are found below.
2017: https://www.ibo.org/contentassets/bc850970f4e54b87828f83c7976a4db6/dp-statistical-bulletin-may-2017-en.pdf
2018: https://www.ibo.org/contentassets/bc850970f4e54b87828f83c7976a4db6/dp-statistical-bulletin-may-2018-en.pdf
2019: https://www.ibo.org/contentassets/bc850970f4e54b87828f83c7976a4db6/dp-statistical-bulletin-may-2019.pdf
2020: https://www.ibo.org/contentassets/bc850970f4e54b87828f83c7976a4db6/dp-statistical-bulletin-may-2020-en.pdf
2021: https://www.ibo.org/globalassets/programme-information/dp/diploma-programme-provisional-statistical-bulletin-may-2021-assessment-session.pdf